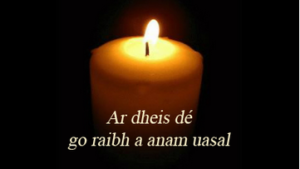 Domhnall Mac Mathúna, who worked for some three decades developing Physical Education in Irish prisons, died in August after a long illness. He had retired from his post in Arbour Hill in early 2014, having been diagnosed with an aggressive cancer the previous year. Domhnall was a man of great ability, warmth and integrity, and a committed professional. Like others in his field, he refused to describe his work by the shorthand term 'PE', which might suggest simply recreation or diversion; for Domhnall it was always 'Physical Education', it involved growth in learning and well-being.
Born in Dublin, Domhnall lived most of his adult life with his wife Áine and their four children in Ráth Chairn, in the Meath Gaeltacht. The family spoke and lived the Irish language, it was his natural milieu. I recall train journeys with him where the recreational reading material he'd take from his bag would invariably be a book in Irish. An accomplished athlete in his youth, he trained and studied for two years at a California university.
For many years, Domhnall worked not just in Arbour Hill but throughout the prison system, as a 'development worker' for physical education. He was Secretary to, and the driving force behind, the Physical Education Development Group (PEDG). This group oversaw great progress in promoting physical activity, health and wellbeing, and the learning to underpin these, among those in prison. Educators who have come to work in prisons in the past decade may be unaware of the extensive national support and development structures within the Prison Education Service in the past, including many in-service opportunities. It also included half a dozen 'development workers' who drove initiatives and offered support in different areas of education across the prison system. Domhnall, as National Advisor on Physical Education and Sport, was one of those key people, and he worked passionately with teachers and gym officers, and their respective managers, to promote holistic Physical Education that would reach everyone held in prison.
The PEDG was a key part of that larger developmental structure and reflected the Council of Europe view that physical education, in prison as elsewhere, is an important segment of adult education geared to the whole person. The PEDG benefited from the committed involvement of two national experts in the field whom Domhnall drew into engagement with prisons: Dr Ann Hope (of UCG and TCD) and the late Michael Darmody, a Senior Inspector in the Department of Education and Science.
Domhnall, Ann and Michael spent several years visiting prisons, working with prison and educational staff to bring about Physical Education programmes that would be open to, and appeal to, all who are held in prisons; and that would adhere to the highest professional standards in classrooms, gyms and outdoor facilities. Something of the quality of thinking and the scale of ambition in these aims can be gleaned by looking today at two booklets produced by the PEDG, which were intended to guide this work: Physical Education in the Irish Prison System: The Challenges Ahead (2000) and Physical Education in the Irish Prison System: Best Practice Handbook (2006).[1] I expect both of these texts are still very relevant today. They are certainly a testament to Domhnall's efforts to enable men and women in difficult circumstances to be able to participate in, and benefit from, high-quality education.
Sadly, Domhnall's life was cut short in an untimely manner, and his family, Irish-speaking community, friends and work-colleagues lost a gallant man.
Kevin Warner, former National Co-ordinator of Education in Prison.
[1] Copies of both of these texts are still available and may be obtained from Áine Cowley, Head Teacher at Arbour Hill Prison, AMCowley@ipsedu.ie, phone (01) 6772149.